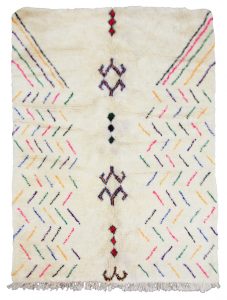 Designing a home well isn't always the simplest job. It involves a many different considerations. People have to focus on budget limitations. They have to focus on practicality. They have to focus on available space. They have to focus on colour as well. Successful home design is usually about putting together tones and shades that go well together. If you're trying everything you can to find an option that can blend effortlessly with all different styles of homes, it may be wise to research the Beni Ourain rug. These rugs have minimalist vibes that look great in all kinds of environments. They have off-white or ivory colouration that can complement most other tones in home design, too. If your living room has a blue colour scheme, you may want to look at your gorgeous choices of Beni Ourain rugs. If your family room has a brown and beige colour scheme, you can do the same thing. Beni Ourain rugs are popular in part because they're so amazingly adaptable and flexible. There aren't many restrictions with these handcrafted North African creations.
These wool rugs aren't run-of-the-mill additions to home design. Since they're handwoven, they're made with care, love and dedication by people from the Berber tribes. Beni Ourain offerings have been integral components of North African culture since the Paleolithic age. They've been deeply influential to these people. These rugs have kept the Berber people warm and cosy for a long period of time. They've served various symbolic functions as well. If you look at any lovely Moroccan Berber rug, you'll quickly notice its geometric forms. These forms don't exist solely for design purposes. They also exist to serve as symbols. If you want your home design to have significance and relevance, these rugs can certainly make powerful options for you.
Although Moroccan Berber rugs are gorgeous and expressive, they can do wonders for people who are focused on the many practicalities of day-to-day living, too. That's because they're so wonderfully tough. These rugs may look beautifully delicate but that definitely isn't reality. They're actually capable of tolerating heavy amounts of foot traffic every day. They're not at all prone to soaking up unpleasant dirt, food and drink stains, either. If want nothing more than a home rug that will stay looking lovely and immaculate for an extended stretch of time, a Beni Ourain addition may make you smile wide.
There are so many reasons to look into your choices in Moroccan Berber rugs. They can give your home a flair that's unusual and captivating. If your home has a classic European design, giving it a touch of North Africa can be pleasing and fun. If your home has a sleek and modern feel, giving it a sense of pure tradition can be a great idea as well. Moroccan Berber rugs can give living spaces lots of extra charm. These rugs can be superb for people who admire sophistication, rich culture, history, symbolism and warmth in general. Their advantages are diverse and strong.