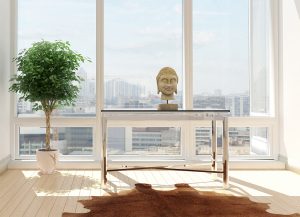 Cowhide rugs are a terrific decor choice that is also immensely practical. These beautiful rugs are perfect for adding some warmth to your indoor decorating scheme. These original works of usable art come in a variety of natural cow breed hues like white, black, tan, ivory, browns and beige tones depending on the specific breed used for the item. Every unique rug boasts gorgeous patterns, color shades and designs that create a truly one-of-a-kind look that can be used in a wide variety of design themes. Each cowhide rug has a natural beauty that will be favorably noticed by everyone that sees it.
Another great benefit of decorating your home with authentic cow hide is that these sensational cowhide rugs are hypoallergenic so even the most sensitive of noses will not be irritated. While these awesome items are fantastic as floor rugs, they are also ideal to use as an original wall hanging. Others prefer to use these exquisite creations as comfy throws that look wonderful against rich leather furniture. These intriguing decor selections brings a welcoming vibe to any room that they are used in. If desiring to layer these rugs over carpeting, ensure that the carpeting is denser to reduce chances of the rug slipping. Another way to avoid this slippage is to apply a rubber backing to the cow hide.
The versatility of a stunning cowhide rug makes these luxurious decor additions an obvious choice in your home interior design. Used as a comfy throw, a genuine cow hide adds rich texture and mesmerizing depth to any interior design. These spectacular room accents complement traditional and contemporary styles while adding interest and elegance. Since these decor choices are nonirritating and naturally hypoallergenic, they can be used in bedrooms, living areas and any other family spaces.
Homeowners love that these hides are naturally stain resistant, and they will last for decades if the owner cares for them correctly. Any spills should be cleaned by dampening the rug and gently dabbing the area with a mild detergent. Take any floor rugs outdoors to shake vigorously to keep the article clean. Any loose dirt may also be gently vacuumed to keep the magnificent cowhide rug in tiptop shape. Owners may also gently brush their rugs to keep their plush softness. Unlike other types of natural material rugs, these easy-care ones never shed or emit strong odors that must be aired out on a regular basis.
The earthy look and feel of these remarkable rugs make them an ideal selection to add drama to an otherwise sleek contemporary style. Used in rustic decorated rooms, these rugs add just the right touch of nature inspired accents. These ingenious decor items are phenomenal choices for homes that include young children and pets. Their low maintenance is a bonus that every homeowner will appreciate. Any type of country design will look better with one of these lavish cowhide creations. The natural fibers ensure cool comfort on hot summer days, and these rugs also make perfect fireplace throw rugs that keep winter's chill away.
Treat yourself to a decor piece that offers amazing visual beauty and plush comfort features all in one. Bring some of the outdoors into your indoor living spaces by opting to add one or more enticing cowhide rugs. This simple adornment is not just eye candy. Imagine yourself wrapped in an extravagant sofa throw made from all natural materials. Place in front of your bed for a pampering foot experience that feels wonderful. Soften your natural hardwood or stone flooring with rugs crafted from hides that are simply gorgeous.